Scream Slate & Steak Mtn. Present: Death Takes A Holiday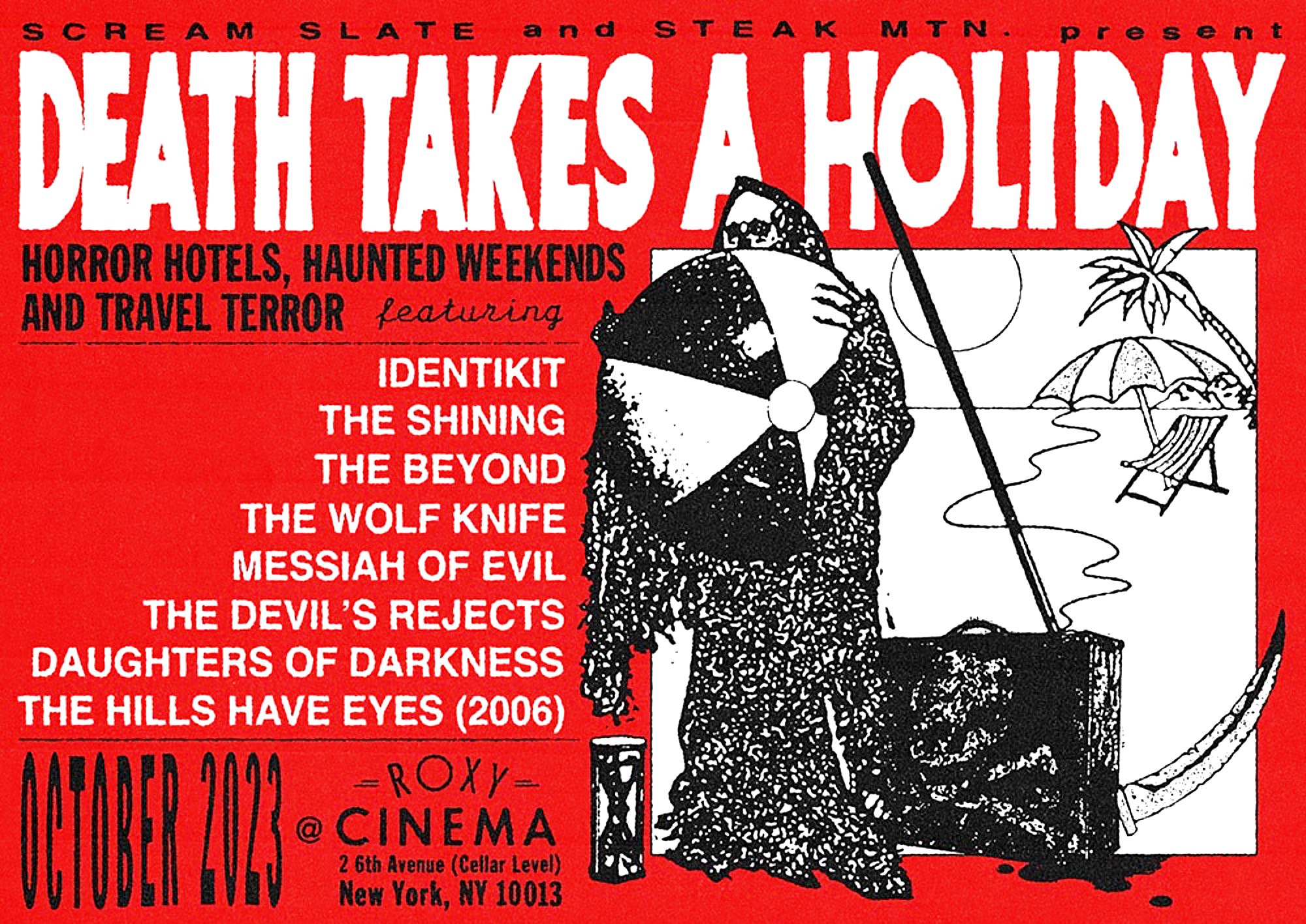 This October, Screen Slate and Steak Mtn. invite you on the road for a series of horror hotels, haunted weekends, and other travel terrors. Death Takes a Holiday explore the fears associated with vacations and other excursions: eerie dislocation, off-season emptiness, unfamiliar territory, shifty locals, and chance encounters with sinister strangers. Highlights range from classics such as The Shining and Lucio Fulci's The Beyond to must-see gems including artist Laurel Nakadate's haunting Florida road trip feature The Wolf Knife and the psychotronic Elizabeth Taylor vehicle Identikit. We also detour through the 2000s with Rob Zombie's masterpiece The Devil's Rejects and Alexandre Aja's essential remake of The Hills Have Eyes. All titles unspool on 35mm except for The Wolf Knife, shot-on-video, and new 4K restorations of Messiah of Evil and Daughters of Darkness. This series coincides with the publication of Christopher Norris's (Steak Mtn) The Holy Day (Rose Books), "a novel about a former teen detective going on vacation to die." Norris and others will be on hand to introduce screenings throughout the month.
In the self-contained sequel to his debut House of 1,000 Corpses, Rob Zombie goes bigger in every possible way, sending the homicidal Firefly family on a grisly road trip to avenge the death of their brother and rescue their mother from a psychotic sheriff. The Devil's Rejects is the ultimate grindhouse tribute, putting hundreds of exploitation films and 70s road movies through the meatgrinder and cranking out something that still manages to stand on its own bloody legs. Accordingly it features a who's who of genre legends: the core cast of Sid Haig, Bill Moseley, and Sheri Moon Zombie is joined by William Forsythe, Matthew McGrory, Danny Trejo, Ken Foree, E.G. Daily, Diamond Dallas Page, Michael Berryman, P.J. Soles, Mary Woronov, Kane Hodder, and more. No movie since the 70s has done southern-fried depravity better; it's worth seeing for the final scene alone, which contains the best possible use of Skynyrd's "Free Bird."
For his English-language debut, Haute Tension director Alexandre Aja set about the nearly impossible task of remaking a horror classic—and knocked it out of the trailer park. As in the original, a vacationing Ohio family is trapped in the arid hills of New Mexico while an inverted, literally nuclear family of deformed cannibals plays sadistic games with them. While Aja makes reference to recent US atrocities including the atomic bomb and chemical weapons deployed in Vietnam, the film was unmistakably a pointed satire of War on Terror-era American patriotism. It doesn't skimp on the violence, including some of the goriest practical effects of its time.
Identikit (aka The Driver's Seat)
It's Elizabeth Taylor on the verge of a nervous breakdown in this singularly bizarre Muriel Spark adaptation, whose reputation has vacillated over the years from so-bad-it's-great to actually-a-masterpiece. Lise (Taylor) travels from Hamburg to Rome on a journey fraught with strange events and aggressive psychosexual overtones, while the ultimate purpose of her destination gradually becomes clear: she is looking for a man to murder her. Identikit's delirious atmosphere—a nightmare often playing out in broad daylight in hotel lobbies and empty department stores—is enhanced by incredible cinematography from the great Vittorio Storraro. Taylor, often partially obscured by sunset-pink aviator sunglasses, gives one of the most distinctive performances of her late theatrical screen career. And get hyped for the strange Andy Warhol cameo.
Southern Gothic horror all'italiana, The Beyond is recognized as one of the masterpieces of the great Italian horror filmmaker Lucio Fulci. Fulci regular Catriona MacColl plays a young woman from NYC who inherits her family's hotel in New Orleans, not knowing that Room 36 holds the entrance to one of the seven gates of Hell. The film's haunting dream imagery is superseded only by its shocking gore, which continues to pack a visceral punch.
Artist Laurel Nakadate's discomforting second feature follows two 16-year-old girls from Hollywood, Florida on an impulsive road trip to Tennessee through roadside motel rooms, empty swimming pools, parking lots, and tourist traps. One of the most incisive and accomplished micro-budget digital features made circa 2010, The Wolf Knife was described by The New Yorker's Richard Brody as "a neorealist version of a Lynchian nightmare … rich in disturbing overtones."
"An extension of Nakadate's confrontational installation and video work, The Wolf Knife cuts through trite notions of innocence and sexuality by uncomfortably stalking the girls' inarticulate, aimless relationship with each other and with their voyeuristic onlookers, audience included." – Brittany Gravely, Harvard Film Archive
An impossibly chic vampire film, Daughters of Darkness is an ideal vehicle for the magnetic lead Delphine Seyrig, who stakes out a seaside Belgian hotel lobby with her secretary/lover while seducing a wealthy, fashionable couple of newlyweds. Styled after Marlene Dietrich in gowns that glitter in candlelight, Seyrig plays a namesake descendent of Countess Elizabeth Báthory who is no doubt responsible for the recent series of murders of young women in Bruges. As the foursome cozy up to each other, Elizabeth regales the couple with stories of her ancestor, who bathed in the blood of 800 virgins. Subsequently, they all become mired in a hot web of sex, violence, and intrigue while Seyrig's costumes become ever-more glamorous. Sometimes shown on battered 35mm prints with poor color timing, this screening will be from a new 4K restoration supervised by director Harry Kümel.
It's The Shining, showing on 35mm in a red velvet, art deco hotel cinema.
Like H.P. Lovecraft's "Shadow Over Innsmouth" transposed to the west coast, Messiah of Evil operates on the same kind of eerie dream logic as Carnival of Souls and Night Tide. A young woman travels to the coastal SoCal town of Point Dune in search of her father, a reclusive artist, only to find the entire area completely deserted. In his studio she locates a series of distressed audio recordings describing a darkness falling on the town, whose residents only come out at night to stand by seaside fires, staring at the moon while anticipating the arrival of an unspeakable evil—and feeding on any outsider who strays through. After languishing unseen for decades, Messiah of Evil is now appreciated as a classic of the genre. It's the rare film that manages to have it both ways between measured artiness and exploitation excess, creepy atmosphere and explicit gore. Husband and wife Huyck and Katz went on to write American Graffiti and the first two Indiana Jones movies, and art director Jack Fisk has since worked almost exclusively with David Lynch and Terrence Malick.