Screen Slate 10 Year Anniversary At The Roxy Cinema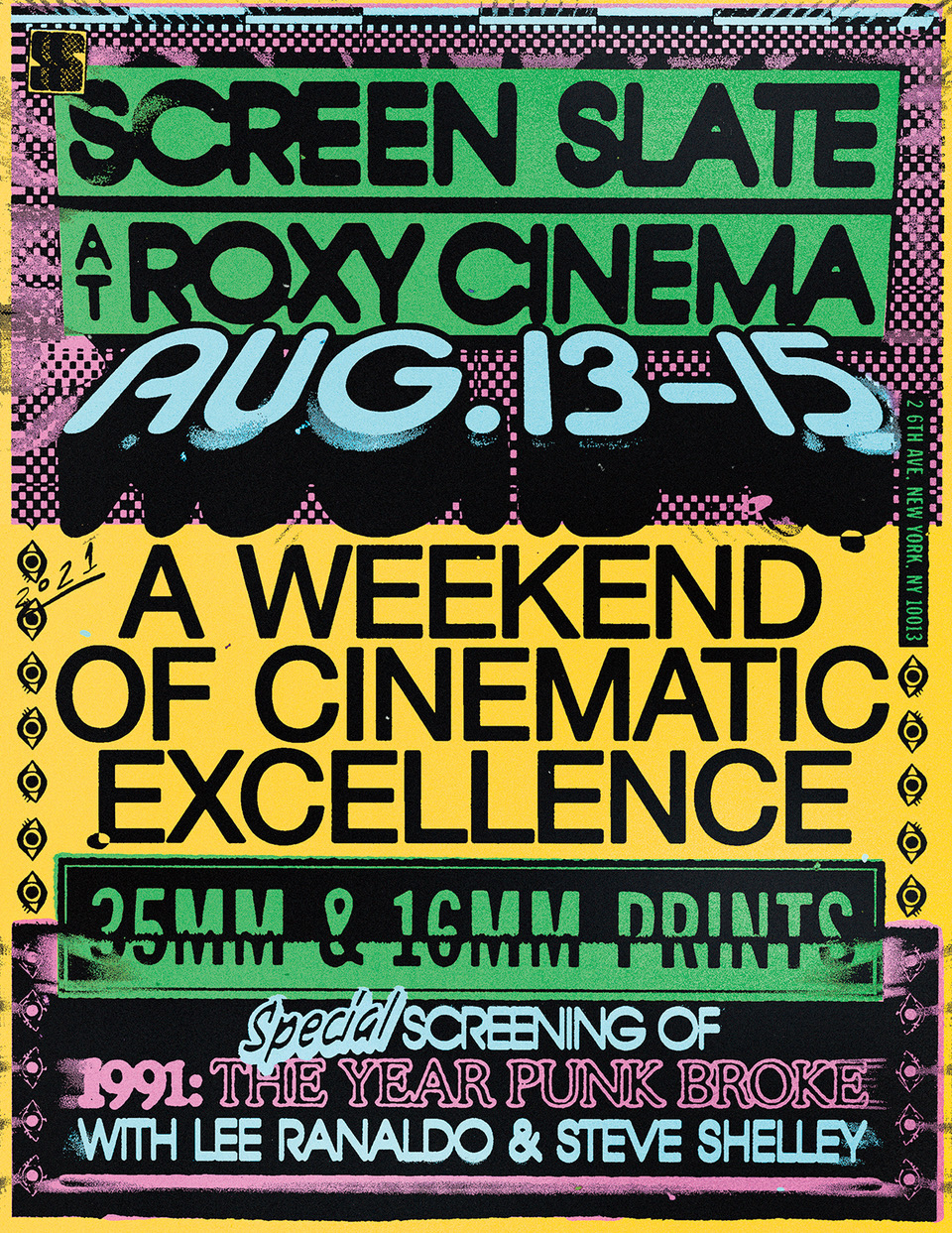 Screen Slate at Roxy Cinema New York
On the occasion of Screen Slate's 10th anniversary and the return of in-person screenings, Screen Slate and Roxy Cinema are thrilled to present a weekend of programming. We're highlighting a few favorites from past screenings and series we've programmed, including our early "Screen Slate Presents" shows at Spectacle and the series "This Is Mini DV (On 35mm)" and "The Medium is the Massacre," originally presented at Anthology Film Archives.
Screen Slate members receive $3 off admission at the box office (unavailable online, but discounted advance tickets can be purchased in-person) and a special event invitation.
1991: The Year Punk Broke (Dave Markey, 1992, 95 min, Special 16mm print)
Sonic Youth's Lee Ranaldo and Steve Shelley in person for Q&A with Brian Turner
Shown January 2014 at Spectacle
Saturday, August 14 – 8:00 PM
The quintessential portrait of the moment alternative rock catapulted into the center of mainstream culture, 1991: The Year Punk Broke follows Sonic Youth on their European tour with Nirvana, who were then just a few months shy of the release of Nevermind. Filmed shortly after the release of Madonna: Truth or Dare, Dave Markey's documentary functions in part as a deadpan satire (including Kurt Cobain doing his best Kevin Costner impression). In addition to many Sonic Youth and Nirvana numbers, the film also includes performances by Dinosaur Jr., Babes in Toyland, Gumball, and The Ramones, and non-musical appearances by Mudhoney, Bob Mould, and Courtney Love, before she and Kurt were an item. We're pleased to present this sorta-20th anniversary screening from a rare 16mm print from Sonic Youth's own collection. Lee Ranaldo and Steve Shelley will be in attendance for a Q&A with Brian Turner.
Special thanks to Peter Oleksik.
Deadlock (Roland Klick, 1970, 93 min, New 2K restoration)
Friday, August 13 – 7:00 PM
Sunday, August 15 – 3:00 PM
Roland Klick's flea-bitten acid Western concerns the maneuvers of three men and a suitcase full of cash in a decrepit mining town. The lexicon is straight-up Leone stripped to its essential gestures, iconography and set-ups, with a poetic sense of landscape recalling Terrence Malick and Zabriskie Point. Another way of framing it is El Topo with machine guns; Jodorowsky himself called Deadlock "fantastic—a bizarre, glowing film." Krautrock legends CAN provide the soundtrack, and their pounding toms, searing Morricone-overdrive guitars and noirish tango are a major presence. Their score for Deadlock also represents the first appearances of vocalist Damo Suzuki, who was with the band for their classic albums Tago Mago, Ege Bamyasi and Future Days.
Deadlock was the first film ever presented by Screen Slate, showing in our "The Films of CAN's Soundtracks" series back in 2011, and the following year in the first-ever U.S. retrospective of filmmaker Roland Klick. Special thanks to Filmgalerie 451.
Arrebato (Iván Zulueta, 1979, 35mm print)
Shown in Screen Slate's The Medium is the Massacre series (October 2016)
Friday, August 13 – 9:00 PM
A major cult classic in Spain and a cinematic cornerstone of the post-Franco Movida Madrileña countercultural movement, Arrebato is criminally under-recognized in the U.S. It's an unclassifiable, nonlinear narrative amalgamation of drug use, allegorical vampirism, and abject, despondent cinephilia: the compulsion to film, watch films, and be filmed. Eusebio Poncela (Pedro Almodóvar's Law of Desire) is José, a preppy B-horror filmmaker and heroin addict who has just two brief but memorable encounters with Pedro (Will Moore), an obsessive, aspiring experimental filmmaker and fellow user. As the film begins, José receives a mysterious package from Pedro with an audio cassette, a reel of Super 8 film, and an apartment key. José and his girlfriend (Cecilia Roth, All About My Mother) pop in the tape, thread up the film, and cozy up to a creepy confessional in which Pedro narrates the history and fallout of his and José's encounters.
Besides Arrebato, director Iván Zulueta is best known for his collaborations with Almodóvar, including posters for most of his greatest films. His own debut is grim, anarchic, hilarious, and terrifying—and a shockingly accomplished film for someone who had previously worked on low-or-no-budget Super 8 experimental films. It previously showed in Screen Slate's series "The Medium is the Massacre" at Anthology Film Archives, which included horror films rooted in various media.
Special thanks to Altered Innocence. A new restoration of Arrebato runs this fall at Anthology Film Archives.
Friday the 13th (Sean S. Cunningham, 1980, Uncut UK 35mm print)
Friday, August 13 – 11:00 PM
Saturday, August 14 – 11:00 PM
When was the last time you caught a late-night 35mm horror film in New York City? With Screen Slate x Roxy opening on Friday the 13th, we couldn't pass up the opportunity to screen Sean S. Cunningham's classic slasher—in a colorful, totally uncut 35mm print from its UK release, with extra gore cut from the original U.S. R-rated version.
Special thanks to Harry Guerro.
24 Hour Party People (Michael Winterbottom, 2002, 117 min, 35mm print)
Shown in Screen Slate's "This is Mini DV (On 35mm)" series (August 2017)
Saturday, August 14 – 3:00 PM
Sunday, August 14 – 7:00 PM
24 Hour Party People follows frustrated TV reporter Tony Wilson through the creation and collapse of Factory Records, one of the most influential, least profitable labels in music history, home to acts such as Joy Division and the Happy Mondays. Starting with the spark of a sparsely attended Sex Pistols show, the film plows through Manchester, England's music scenes, foregoing history for a giddy sense of being there. A full Richard Lester playbook of fourth-wall asides, non-sequitur callbacks, and self-aware references are deployed, with the insubordinate glee extending to the decision to shoot on Mini DV (at the time the theatrical release equivalent of a middle finger) by DP Robby Müller in his final feature film credit. Aside from making interiors look great and exteriors look pixilated and miserable, DV gave them freedom to focus on performance, and the realistic looseness shows up other biopics' forced cool. It also represents the first collaboration of Winterbottom and star Steve Coogan, who continue to churn out The Trip series. –Danielle Burgos
Jackass: The Movie (Jeff Tremaine, 2002, 85 min, 35mm print)
Shown in Screen Slate's "This is Mini DV (On 35mm)" series (August 2017)
Saturday, August 14 – 5:30 PM
Sunday, August 14 – 5:00 PM
Arriving in the wake of the golden age of skate videos and underground tape trading while anticipating the global explosion of reality television and YouTube Fail videos, Jackass represents a major epochal body of work, and Jeff Tremaine's big-time motion picture is as perfect an encapsulation – or introduction – as one could ask for. Jackass: The Movie is basically the TV show, but bigger, nastier, and (relatively) uncensored. Before Borat, the Jackass crew created a revealing, nuanced portrait of America by simply pointing consumer-grade cameras at themselves (and sometimes unsuspecting loved ones), and their transgressive representation of the body often earnestly recalls maverick video performance artists like Chris Burden and Vito Acconci. The whole thing remains genuinely shocking, disturbing, and hilarious – and is perhaps to date still the most radical film you could see in a shopping mall. Jackass was previously featured in our "This is Mini DV (On 35mm)" series, which presented early standard-definition digital video films on the 35mm format as they were originally exhibited—ironically both heralding the new digital era while representing the last gasp of films being exclusively exhibited on film. Special thanks to John Klacsmann.