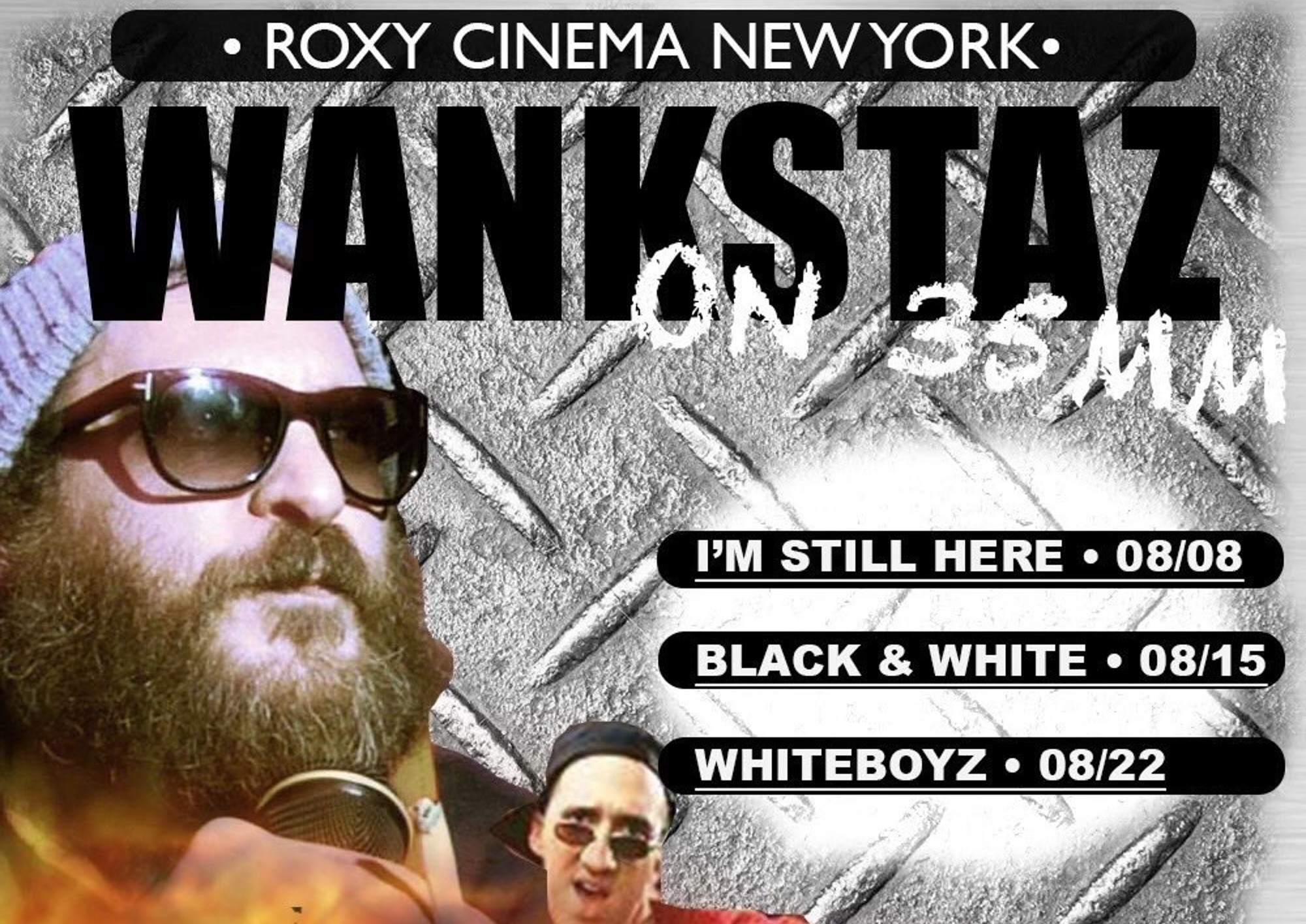 In the early-2000's there was a prolonged period where it was physically impossible to avoid the 50 Cent song Wanksta. It was blasting out of every car, it was on in every deli, it played at every party and it was a 24/7 fixture on MTV, BET, FUSE and all the other pre-YouTube music services. Much like the Mister Softee ice cream truck jingle it was catchy, simple and madness inducing. The title is a play on "wannabe" and "gangsta," and the song serves a harsh dressing down to those who fake being in the streets while living comfortably on the sidelines. According to the scholars at Urban Dictionary a wanksta can be of any race or ethnicity. I'm going to focus here on the white ones though, the ones often considered the fakest of the fake by any hood authenticity matrix. This specific wanksta-type is most commonly portrayed as a buffoonish jester figure, culture vulture or worse.
In September of last year I got an email from The Roxy asking if I had any ideas for film serieses. I quickly  scrambled to come up with something, anything. At the time there was a wave of edgy "readings" going on downtown and I thought maybe I could do a "poetry on film" thing to piggyback on that trend. There was one big problem, though. In no way, shape, form or fashion could I get it up for that stuff. I still took the meeting. We met at what felt like the crack of dawn (1pm) on a Sunday. I was hungover, flustered and on a hard deadline for another project that was occupying my headspace. I gave my half assed poetry pitch and felt utterly defeated. In a moment of desperation I nervously muttered, "Uh… What about Wankstaz on 35mm? Black and White (1999), Whiteboyz (1999) and I'm Still Here (2010)." It would be a series on the messy, comedic and occasionally offensive intersection of aloof, spoiled brats and hip hop culture, all films from the late-'90s and early-'00s. We laughed, but it was a "don't call us, we'll call you" note to end on. And then… silence. And more silence. And then a little more silence. It came as a total surprise and delight six months later when I got the text after 11pm at night saying we were on for the Wankstaz!
I've never been a fan of Woody Allen and I'm constantly shocked by how many of my fellow middle aged peers moved to New York to fulfill the fantasy of living in his world. For some, the idea of tossing on a wool blazer with a New Yorker tote bag to hit up an 11:00AM matinee of Wild Strawberries (1957) or something, while arguing about literature with a quirky Lolita type, is the essence of "My life's a movie." But James Toback's Black and White was always my Manhattan (1979). It presented a world of prep schoolers in Avirex jackets, beepers, music video shoots, penthouse parties with lunatics and threesomes in Central Park. This was the movie I wanted to be in. I moved to New York soon after its release and happily hopped right in. At the core of Black and White is a crew of affluent white high school students, all blissfully immersed in the world of hip hop and street culture to varying degrees and all searching for identities to obscure the ones that they were born into. Wanksterism at its finest. What makes the film such a masterpiece is how effortlessly it portrays different social strata all stacked up; collaborating, fighting, fucking, scamming and inspiring each other. It's a world of Supermodels studying the Paleolithic Era, dreadlocked mini-DV documentarians of the Upper East Side, hardcore gangsters turned rappers, music video directors in unusual sweaters, confused college athletes and their degenerate gambler enablers, thirsty Vanity Fair writers, and heavyweight boxing champions on parole, all crammed into the same tiny patch of real estate. The ensemble is unrivaled; Bijou Philips, Robert Downey Jr., Raekwon, Method Man, Brooke Shields, Gaby Hoffmann, Jared Leto, Claudia Schiffer, Elijah Wood, Ben Stiller, Marla Maples and, most memorably, Mike Tyson.
Marc Levin's Whiteboyz premiered the same year as Black and White. While Toback's film showcases kids at the epicenter of high society exploring their identities through hip hop, Levin's group is of a different class but pursuing the same ends. It follows three "whiteboyz" in rural Iowa who spend their days freestyling in their parents' basements, writing graffiti on barns, and attempting to sell drugs, intoxicated by the gangster rap videos and CDs they consume all day. Each kid is committed to the culture to differing levels and they roast each other constantly over the other members' apparent lack of authenticity. As a final test of realness they travel to a housing project in downtown Chicago to chop it up with their imagined peers. Needless to say it's chaotic, dangerous and embarrassing. No one really used the word "cringe" in 1999, but if they did it would have been in every single review. Danny Hoch's performance as Flip Dog is fearless, naked and almost impossible to watch at times.  He goes "full wanksta," a place most actors would be afraid of. It's painful and hilarious to behold.
And then there's Joaquin Phoenix. In 2009, ten years after Black and White and Whiteboyz, he made his infamous appearance on Late Night With David Letterman. He showed up to the talk show with a whole new swag; disheveled suit, a few pounds heavier, an unkempt beard and designer sunglasses. Instead of promoting James Gray's magnificent Two Lovers (2008), which he was there to do, he declared his retirement from acting entirely. He then announced the launch of his new career as an M.C. I'm Still Here, directed by Casey Affleck, chronicles his transition from Hollywood thespian to wastoid mumble rapper. We see him in the studio, partying down, tormenting his entourage and ultimately performing at a Miami club that ends in violent, tabloid baiting, chaos. It's unclear how much is documentary and how much is fiction, but the idea of a rich, beloved, celebrity, weary of his comfortable and reputable lifestyle, slumming it in the world of underground rap, spitting dubious bars ("compli-fucking-cations"), and beefing with Diddy is the way of the wanksta. Gone are the leather Avirex bombers of Black and White. He's refined the technique with a 21st century system update
Rewatching these three films now I was surprised how much they've influenced my own work. My second feature Hellaware (2013), about a white, Manhattan-bred, twenty-something photographer who immerses himself in the world of Delawarean horror rap, could even fall into the genre. The crew he documents in it are also caucasian and living in their own suburban Whiteboyz-esque fantasyland. Some of the freestyles in it are so ridiculously similar to Flip Dog and co.'s one could infer it's a direct homage (it's not). Toback's influence is broader, but just as prominent. His mix of actors and non-actors to create an explosive three ring circus of nutzoid personalities has always been inspiring and his use of brief shooting schedules and real locations is the gold standard for guerilla style low budget filmmaking. So much of the comedy of life in the city, for me, comes from the non-stop culture clashes, the desperation of trying to stand out from the flock, and the surplus of extra large personalities with zero self-awareness. Black and White serves these up in excess, while recklessly poking away at taboo subjects. Before I cast Theodore Bouloukos in Jobe'z World (2018) I was seriously considering playing that role myself, only it was going to be a strung-out fatass actor with a beard (very doable) who's slumming it in the art world. Theo was infinitely better than I could have done it, but I would have happily attempted my best Joaquin for the cause. What I'm getting at is, these films are all in my DNA and it's been a bummer to see some of them fall into obscurity lately.  As a result, it's been extra exciting to dig up pristine prints of all three. Lastly, In a moment where discourse from a few months ago can already feel dated, these films, all from the last 25 years, at times feel like they're literally from another dimension considering how much conversations on identity have shifted. It's  eyebrow-raising how out of touch they get at times. All that said, the wanksta way has certainly not gone away (it's just morphed) and there's so much to be gleaned from these uncomfortably hilarious, provocative and entertaining time capsules.
Words by Michael M. Bilandic.
8/8 – I'm Still Here
8/15 – Black and White
8/22 – Whiteboyz
Screenings introduced by Michael M. Bilandic.