Pink Flamingos: The Film That Launched A Legacy In 35mm Print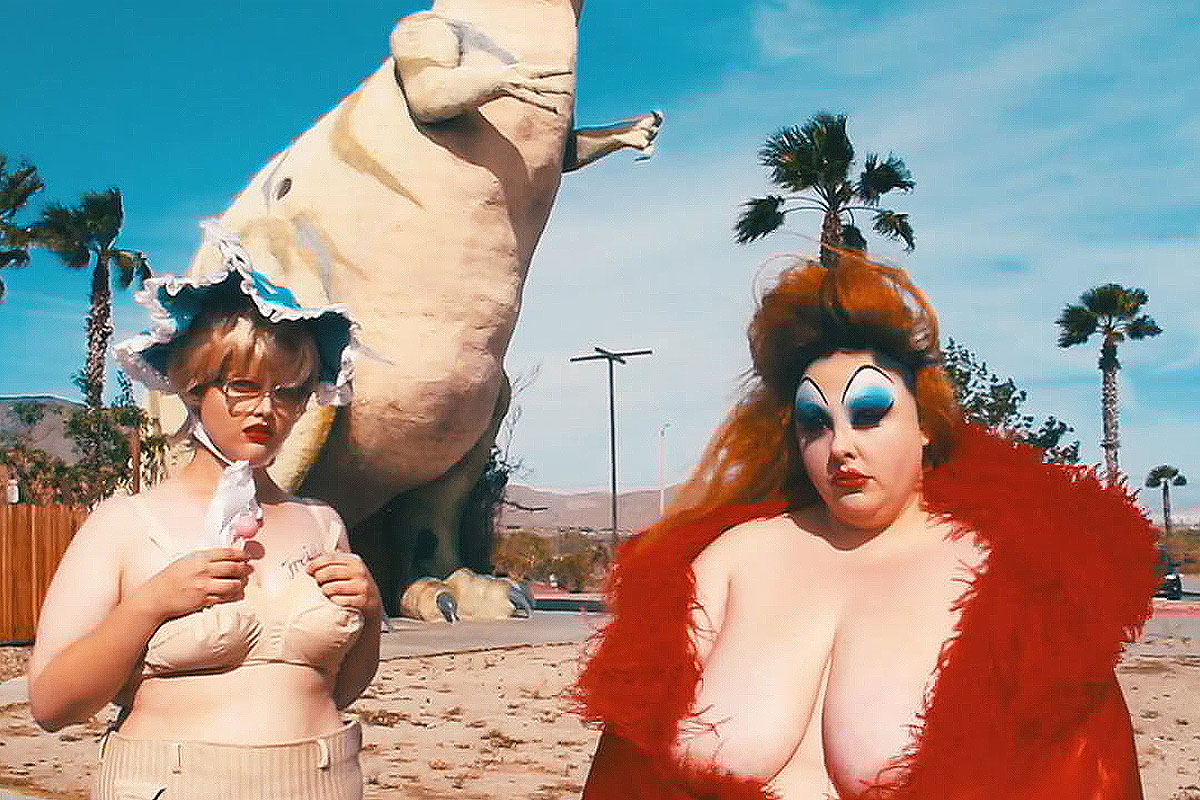 This Saturday the Roxy Cinema presents two screenings in 35mm of John Waters' classic Pink Flamingos. Even with the mainstream success of more recent Waters projects – namely the original Hairspray and its musical adaptation – his most iconic image is its pistol-wielding Divine clad in spandex and crinoline. And there may be no film title as notorious as Pink Flamingos, the film that brought forth an irrepressible impact that would inform punk, queer culture, and the very face of cinema.
Though Waters would escape to New York in his youth to take in art films and midnight movies, he premiered his films only in his home city of Baltimore. His work espoused a native adoration for the city and a familiarity so profound as to seep into the darkest crevasses of its subculture. Besides, New York had its own ideas about what an art film should be, and Waters' embrace of the abysmally lowbrow could scarcely take part in such an erudite conversation.
He was a true auteur, and yet he used the gravity of that title as a weapon he could wield against everything the mainstream, or any establishment, held sacred. It may be an old joke to classify any important film from the 50's through the 70's as an attack on bourgeois values, but nobody bit as hard as John Waters. And yet herein lies the paradox where his films have too much sweetness to be quarrelsome, and even too much charm to be distasteful. His genius was to expose the true art beneath all that loathing for how art was conventionally appreciated. His universe where 'foul was fair' inspired us not only to question our values, but to invert them. And in 1972, between the decline of the flower children and the rise of punk, the world had seen nothing like Pink Flamingos.
The film stars Divine as an aggrandizedersion of herself, a serial criminal and killer hiding under the alias Babs Johnson with her son, yokel pretty-boy Crackers, and her traveling companion Cotton, played by Mary Vivian Pearce looking lovely as a strung-out starlet in platinum blonde and sable. Also sharing their pink motorhome is Divine's mother Edith, played by memorable Waters-regular Edith Massey, confined lovingly to a playpen with an obsessive appetite for eggs and the Egg Man who purveys them.
Divine's assignation by the press as "The Filthiest Person Alive" has roused the jealously of an eccentric upper middle class Baltimore couple, Connie and Raymond Marble (Mink Stole and David Lochary), who impregnate abducted girls in their basement dungeon and sell the offspring to lesbian couples. The Marbles vow to destroy Divine and outdo her in progressively depraved acts of filthiness.
The film epitomized the sensibilities that would later come form the punk movement, punctuated in a scene where the cops raid a wild party only to be shot down and cannibalized, and in softer tones also with the fetishizing of obscure 1950's b-sides and accompanying motifs of leopard-print and pastel hues. All of these elements would come to be adopted by seminal punk bands like the Cramps and the rockabilly trends that they would inspire. The soundtrack of Pink Flamingos may in fact be one if its strongest assets, applied in a manner inspired by fellow queerenfant terrible of the cinema world Kenneth Anger in his meaningful contributions to what would eventually become the phenomenon of music video.
But Anger never made a feature film and his work, though formidable, lacked the audience that even an underground full-length film could exert upon pop or underground culture. Other notable queer filmmakers such as Jean Cocteau treated their sexuality with a genteel almost Neoclassical, shrouded in myth and iconography. John Waters' multi-faceted contributions left an indelible mark on queer culture, not merely queer cinema. His unabashed representation of gay subject matter and characters were so true to life as to possess an element of the documentarian. His own erotic desires, the lifestyles of his friends, the vast gamut of kinks and perversions he portrayed with pure courage still resonate with inspiration. Divine remains an unprecedented, and inimitable, vanguard for the transgender community. She surmounted constructs of gender, beauty, and taste – and yet embodied a figure of valor and grace, whose talent and charisma are beyond dispute.
Pink Flamingos makes us want to be bad, and more importantly to be ourselves. The celebratory tenor of its spirit and the magnetism of its performances make the sordid seem sacred, and affirm that outsiders have more fun. If we have the eyes to see, and the stomach to take some of its grittier scenes, we can find beauty in depravity and empower ourselves with new meanings for resistance. Having a blast all the while.
Words by M.Pellerano