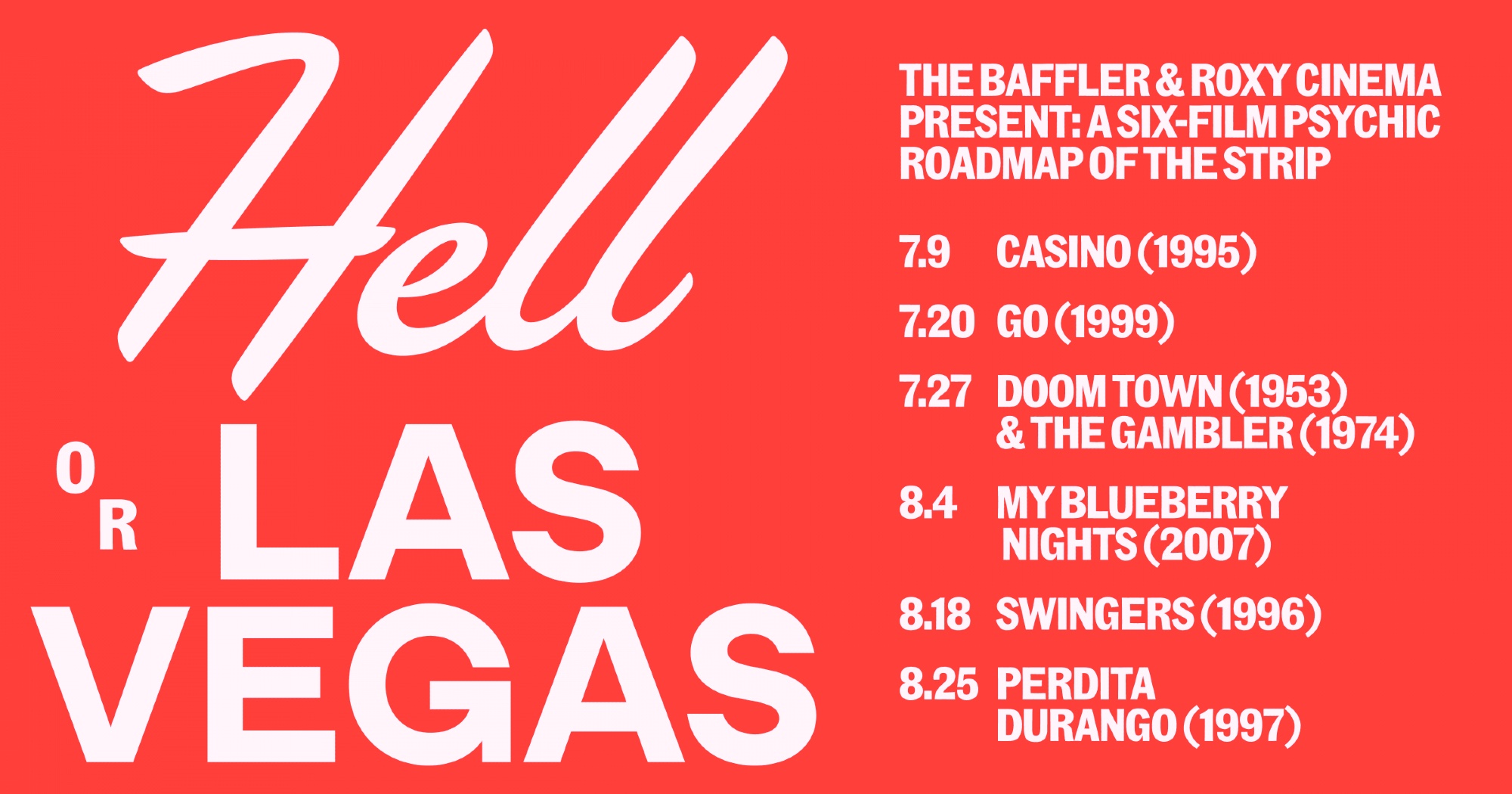 READY. SET. VEGAS. This summer, Roxy Cinema New York and The Baffler invite you to an eponymous film series featuring a six-film psychic roadmap of the Las Vegas Strip.
Built on greed and powered by "luck," at first glance America's twenty-fifth most populous city would appear to be the ultimate golden calf of free-market capitalism. But as The Baffler's latest issue, Hell or Las Vegas, attests, Vegas is, to borrow a different cliché, a land of contrasts: a monument to postwar grift that is surprisingly union-strong today, a place sold to taxpayers as a real-life fantasyland and the blueprint for international turbo cities offering gambling and other "immersive enticements in the post-American century.
This summer, Roxy Cinema New York and The Baffler invite you to an eponymous screening series reveling in these contortions and plot twists. The series kicks off with Martin Scorsese's opulent epic Casino (1995), arguably the ultimate Vegas movie,detailing the meteoric rise and Shakespearean fall of mobster Ace Rothstein—modeled closely after real-world bookie kingpin Frank Rosenthal, operator of the four biggest casinos in town, the Stardust chief among them. Doug Liman's 1996 breakout Swingers and Wong Kar-wai's misunderstood 2007 English-language debut My Blueberry Nights both chase the long afterlife of Rat Pack Vegas, while Spanish firebrand Álex de la Iglesia's road-to-hell thriller Perdita Durango stands at the desert nexus of David Lynch and the then-unstoppable Quentin Tarantino. Tarantino's imprint is similarly felt in 1999's serpentine ensemble pulp fiction Go (also directed by Liman), which proffers Vegas as a town where your luck can turn on a dime. Same goes for Karel Reisz's hard-boiled 1974 classic The Gambler, wherein screenwriter James Toback retrofits Dostoyevsky's novella as a continent-spanning meditation on grief, risk, addiction and the quintessentially American desire to go west and reforge your identity.
Guests David Hill, Stephanie LaCava, Julia Lans Nowak, Katie Kirkland, and Caroline Golum will join us to introduce each of these films. Forget Leaving Las Vegas, Ocean's Eleven, or The Hangover: Hell or Las Vegas charts a psychic roadmap of The Strip as point of departure and return, testifying to Vegas' reputation as the eternal city of second chances.
—Steve Macfarlane
Sunday, July 9: Casino on 35mm, introduced by David Hill
Thursday, July 20: Go on 35mm, introduced by Stephanie LaCava
Thursday, July 27: Doom Town & The Gambler, introduced by Julia Lans Nowak
Friday, August 4: My Blueberry Nights on 35mm, introduced by Katie Kirkland
Friday, August 18: Swingers on 35mm, introduced by Caroline Golum
Friday, August 25: Perdita Durango on 35mm, introduced by Steve Macfarlane