City Dudes Blindfolded Film Series at Roxy Cinema New York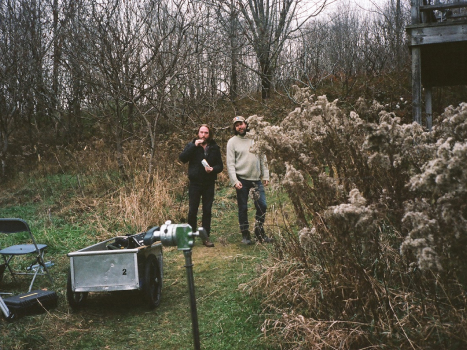 WHAT IS "CITY DUDES"?
City Dudes blindfolded film series at Roxy Cinema New York is curated and hosted by the American cinematographer Sean Price Williams and American writer Nick Pinkerton. Might could be they'll have the occasional Exciting Guest on-hand as well.
WHY "CITY DUDES"?
Funny name. Sounds tuff. Doesn't necessarily relate to the movies being programmed, unless it happens to, which it might.
WHO ARE THOSE DUDES?
Sean was born in Wilmington, Delaware, much like Cynthia Rothrock, and raised in the piney wilds of northeastern Maryland. His employment with the storied Mid-Atlantic region Video Americain chain took him on a peripatetic journey through Washington, D.C. and Baltimore before finally landing him behind the counter at New York City's Mondo Kim's. At some point, after dickering around with Al Maysles and doing God knows what else, he surfaced as a cinematographer. His first feature credit, on Ronnie Bronstein's 2007 Frownland, was followed by collaborations with Abel Ferrara, Jessica Oreck, Alex Ross Perry, Maiko Endo, Josh and Bennie Safdie, and Michael M. Bilandic, though he remains proudest of his efforts on the 2010 telefilm More Than a Paycheck: Mitchum Presents America's Hardest Workers. The New Yorker's Richard Brody described Williams as "the cinematographer for many of the best and most significant independent films of the past decade, fiction and documentary." Ferrara, in a recent interview, described Williams as "look[ing] like if Jim Morrison lasted another couple years." The face that lunched a thousand chips.
Nick was born in Cincinnati, Ohio, much like Louise Beavers, and has been slipping through the alleys, underpasses, and sewers of New York City since 2003. During that time he's written about movies at various outlets, now mostly defunct. He presently maintains a wildly popular pornographic art film blog via Substack ; erratically publishes a "Journal of Film and Funnies," Bombast , in collaboration with Casey Moore and Tommy Swenson at Seattle's Beacon Cinema; and assists in commissioning and editing texts at New York's Metrograph while also working with one Matt Folden on curating their bookstore. In 2021, his book about Tsai Ming-liang's Goodbye, Dragon Inn, was published by Fireflies Press as part of their Decadent Editions series. He's been doing little ticky-tacky "guest curator" programming gigs around New York forever, and is back on his bullshit. He worked at Kim's, too, but at the crummier, smaller, ruder one on Ave. A.
WHAT DO YOU MEAN BY "BLINDFOLDED"?
Film titles will not be announced until the seats are filled up with shrieking teeny-boppers and the movieshow is about to commence. This isn't wholly dissimilar to the approach taken by the Liberated Film Club in the screening series they conducted at London's Close-Up Film Center from 2016 to 2020, with the difference that invited guests in this case were unaware of what film that they were introducing—a collection of these introductions was recently published by Tenement Press  in the UK, and includes our Seany. The crucial difference is that City Dudes has no high-concept conceptual hook—the boys just think it's sneaky and fun to keep sexy secrets. Don't you?
GOING INTO A MOVIE BLIND IS A BIT RISKY, INNIT? WHY WOULD I OPT TO DO THAT?
Because Sean and Nick are big-brain movies geniuses, and because every show is gonna be sick, and because you'll be stricken with crippling FOMO if you don't.
CAN YOU AT LEAST BE BOTHERED TO GIVE ME SOME INKLING OF WHAT I'LL SEE?
Movies from all o'er the globe, spanning from the dawn of cinema to its far-flung future. The only criterion is that the fellas are going to bring out that private stock stuff every single time. Films that haven't been played to death around town, proffering an alternative history of cinema, a celebration of the breadth and depth of film history, a pulsating motion picture party full of taut bodies heaving and sweating, backs arched in primal ecstasy. There'll be an earnest attempt to haul out film prints whenever possible, but if we gotta go with a janky file now and again, whelp, them's the breaks.
WILL THERE BE MERCH?
Sure. Lunchboxes, posable action figures, fedoras, thongs. The whole nine. They're gonna milk this thing for every penny.